Not in FusionFall Retro.
The following article is about something that appeared after the Birthday Bash update in FusionFall, and so will not appear in FusionFall Retro.
As such, it solely exists for archiving part of the original game.
"
Greetings and bienvenue.
"

–V.V. Argost's greeting

V.V. Argost is the evil archenemy of the Saturdays. He's very rich and hosts his own immensely popular television show called Weird World, along with his half-human, half-spider minion/co-host Munya. He isn't human himself. He is a yeti.
FusionFall
In FusionFall, V.V. Argost appeared at the 2009 Thanksgiving event as a mission giver in Peach Creek. He gave two missions relating to Cryptids: "A Thanksgiving Delicacy (Part 1 of 2)" and "A Thanksgiving Delicacy (Part 2 of 2)" (the cryptid he was looking for was actually a monster from The Powerpuff Girls).
He is the only NPC whose missions do not include waypoints, aside from Flapjack and Freddy Fishlegs in the Valentine's Day event. He is a known NPC and was seen in the Birthday Bash party, hinting he will be a full character for the expansion.
In the new introduction sequence, he appears along side the rest of the villains.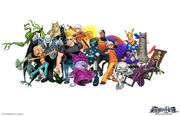 Trivia
Ad blocker interference detected!
Wikia is a free-to-use site that makes money from advertising. We have a modified experience for viewers using ad blockers

Wikia is not accessible if you've made further modifications. Remove the custom ad blocker rule(s) and the page will load as expected.