"
Greetings and bienvenue.
"

–V.V. Argost's greeting

V.V. Argost is the evil archenemy of the Saturdays. He's very rich and hosts his own immensely popular television show called Weird World, along with his half-human, half-spider minion/co-host Munya. He isn't human himself. He is a yeti.
FusionFall
In FusionFall, V.V. Argost appeared at the 2009 Thanksgiving event as a mission giver in Peach Creek. He gave two missions relating to Cryptids: "A Thanksgiving Delicacy (Part 1 of 2)" and "A Thanksgiving Delicacy (Part 2 of 2)" (the cryptid he was looking for was actually a monster from The Powerpuff Girls).
He is the only NPC whose missions do not include waypoints, aside from Flapjack and Freddy Fishlegs in the Valentine's Day event. He is a known NPC and was seen in the Birthday Bash party, hinting he will be a full character for the expansion.
In the new introduction sequence, he appears along side the rest of the villains.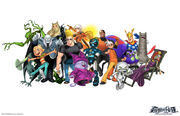 Trivia