"Move it you stupid taste buds!" - Puckerberry Overlord
The Puckerberry Overlords are a plant like group that serve the ruler of any mouth, Sour Ron. If you don't want to live in your own mouth, then do NOT eat a Puckerberry! Chowder once beat these guys and turned them sweet.
FusionFall
In
FusionFall
, the Puckerberry Overlords are almost the size of
Fiskerton
and 2 of them can be seen during the
Birthday Bash
. This possibly means they will be an NPC group, like the
Urban Rangers
and the
Plumbers
. One of the few gives out a
Chowder FusionFall Adventure mission
.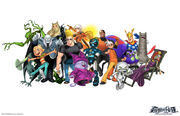 Trivia
Curiously, their design in-game more closely resembles Wildvine from Ben 10 than it does their in-show counterparts.