Pokey Oaks North
Area Level
05
This article is about Pokey Oaks North in the past. For the future version see Pokey Oaks North (The Future).
Pokey Oaks is home to Fuse's monsters that are terrorizing the residents. Located in the north part is Pokey Oaks Junior High, the Powerpuff Girls' school, which is now an Infected Zone.
Several Fusions have taken up residence inside the school. Fusion Blossom is heading the operation to steal the sugar, spice, and everything nice and has also stolen some of Blossom's hairbows. Fusion Wilt and his army have been stealing the candy from Foster's and hiding it in his Lair.
Furthermore, Fusion Bubbles is in charge of Fuse's plan to terrorize the residents and terrafuse the entire area. Fusion Mayor is also here to inject the pickle supply with Fusion Matter. Fusion Eddy recently stole some of the real Eddy's jawbreakers and is hiding in the school.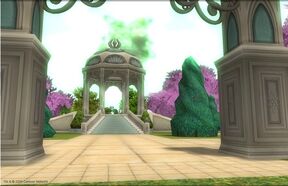 Enemies
Name
Ball-Peen Meanie
Boss
Ball-Peen Slayer
Level
05
Type
Cosmix
Description
The Ball-Peen Meanie is all the things your mom wouldn't want you to play with, combined with a nasty temper. If you go to visit The Powerpuff Girls, watch out; this hammer can injure more than your thumb.
Attacks
Corruption Attack
Name
Pesky Pony
Boss
Husky Horsie
Level
05
Type
Blastons
Description
This pony has a mean kick and knack for nogging! Don't let him spot you or he will follow you forever!
Attacks
Eruption
Name
Mean Behemoth
Boss
Boss Behemoth
Level
05
Type
Cosmix
Description
Is the sky falling? No, it's just the telephone poles. Unfortunately, they're attached to an angry Mean Behemoth, and the streets of Pokey Oaks aren't safe anymore.
Attacks
Stun
Name
Don Doom
Boss
None
Level
04/08
Type
Adaptium
Description
Fuse took 10 Doom Striders and melded them together to make this horrific thing. As one of the hardest Fusion Monsters to beat, Don Doom patrols Pokey Oaks. He and Bad Max have stolen items from the KND vault. If you are lucky you might retrieve the items for keeps and stop this giant creep, but stay sharp, since, just as with Bad Max, Fuse made this guy twice as powerful after sending him to the Past.
Attacks
Stun
Fusion Lairs
Fusion Mayor's Secret Lair
Ad blocker interference detected!
Wikia is a free-to-use site that makes money from advertising. We have a modified experience for viewers using ad blockers

Wikia is not accessible if you've made further modifications. Remove the custom ad blocker rule(s) and the page will load as expected.