This article is about Peach Creek Commons in the future. For the past version see Peach Creek Commons.
Peach Creek Commons is the area in which the Cul-de-Sac and the Trailer Park are located in The Future. Edd made a cardboard box fort around the Cul-de-Sac that protects the neighborhood from Fuse's monsters due to the Imaginary Energy eminated from the cardboard. However, in The Future, the state of the Cul-de-Sac is as bad as any of the remaining areas. The Park 'n' Flush north of here, home of the Kankers, has been cleared leaving fusion monsters.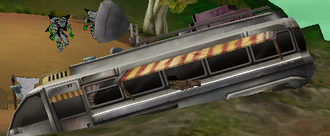 The Great Machine was moved from City Hall to here some time between the past and future. Eduardo can also be found here, being one of the few heroes who has survived up to that point, and due to the destruction of Foster's Home in The Future.
Peach Creek Commons is north of Candy Cove (The Future), west of Peach Creek Estates (The Future) and east of Pokey Oaks North (The Future). It comes originally from Ed, Edd n Eddy as the neighborhood in which the title characters have their suburban adventures.
Destinations
S.C.A.M.P.E.R. Destinations
Monkey Skyway Agent Destinations
Enemies
Name
Dire Hydra
Boss
Alpha Hydra
Level
03
Type
Adaptium
Description
Like the multi-headed monster this Fuse creation gets its name from, the Dire Hydra can attack from all directions at once.
Attacks
None
Area: Peach Creek Commons (The Future)
Name
Painsaw
Boss
Bossblade Painsaw
Level
03
Type
Cosmix
Description
Once used by over-zealous loggers, Fuse didn't even have to alter the Painsaws to turn them into four-bladed terrors! They're clearing the land around the Cul-de-Sac to launch an all-out assault.
Attacks
None
Peach Creek Commons (The Future)
Name
Newsprint Ninja
Boss
Newsprint Ninja Boss
Level
03
Type
Blastons
Description
Is that the rustling of leaves, or the footsteps of a deadly Newsprint Ninja? He's practically silent, but you won't be when you get a paper cut. Ouch!
Attacks
None
Area: Peach Creek Commons (The Future)
Ad blocker interference detected!
Wikia is a free-to-use site that makes money from advertising. We have a modified experience for viewers using ad blockers

Wikia is not accessible if you've made further modifications. Remove the custom ad blocker rule(s) and the page will load as expected.