Null Void
Talk

0
1,469pages on
this wiki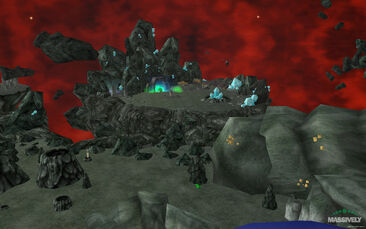 The Null Void is an alternate dimension as a substitute for the Future.
As a penal colony, It is filled with what looks like never-ending floating rocks.
FusionFall
Edit
War Against Fuse
Edit
Training Cadets
Edit
The alternate dimension served as a place to send criminal aliens that cause trouble, which over the years have included Kevin, Vilgax, and now Fusion Finn and Fusion Spawns. Now that DexLabs, the Plumbers, and Providence have create a new training system, they have chosen the Null Void to be the first step in training new heroes to fight Lord Fuse. Ben and Grim have taken the task to oversee the work of the new cadets in this area. In the Null Void there is a visual of Rust Bucket 3 and some some sleeping quarters for the cadets to sleep in and an old beaten up fighter (probably a plumber ship). After the hero completes all his/hers tasks, Rex will be waiting to warp them to the Providence E.V.O. Containment or commonly known as the "Petting Zoo".
Characters/NPCs
Edit
Available Missions
Edit
Name
Fusion Spawn
Boss
Jumbo Fusion Spawn (Found at Petting Zoo)
Level
1
Type
Cosmix
Description
Fusion Spawns are what every Fusion Monster (maybe even fusions) start out as. Fuse must of been feeling slack and neglected these Fusion Spawns and didn`t mind evolving them. Poor things!
Attacks
None
Fusion Lairs
Edit