The Lower Catacombs are a special area only accesable from Courage's House in Nowhere. To get to the Lower Catacombs the hero must go to the warp gate near Courage's House.
In one corner of the catacombs there is a lake near a castle.
This area contains several secret warp gates, which are:
The Fosters Home Fusion Lair, the inside of Fosters Home
Enemies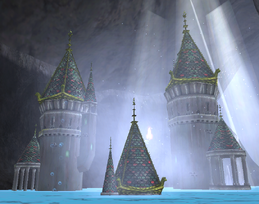 Name
Fowl Fiend
Boss
Jumbo Fowl Fiend
Level
25
Type
Cosmix
Description
The Fowl Fiend isn't just a fowl, it's also perpetually in a foul mood. When you consider its fierce bite and long spines, that's something to get worried about.
Attacks
Corruption Attack

Eruption

Battery Drain
Area: Lower Catacombs
Name
Graveworm
Boss
Giant Graveworm
Level
25
Type
Adaptium
Description
The Graveworm is tiny when it is born in the rich soil beneath a cemetery. As it feeds on the remains of the dead, it grows to massive size. The ones living beneath the Catacombs are hundreds of years old!
Attacks
Corruption Attack

Eruption

Battery Drain
Area: Lower Catacombs
Trivia
Name
Aubergine Meanie
Boss
Meanie Master
Level
25
Type
Blastons
Description
The leader of the Aubergine Masters is more vicious and eager for the taste of human flesh. Through they live in the barren Catacombs, these vegetables will defend their home to the death.
Attacks
Corruption Attack

Eruption

Stun
Area: Lower Catacombs
Fusion Lairs
Trivia
In the Lower Catacombs there is a large door, which is remarkably similar to the door behind Lord Fuse that is being guarded by Grave Worms.
Ad blocker interference detected!
Wikia is a free-to-use site that makes money from advertising. We have a modified experience for viewers using ad blockers

Wikia is not accessible if you've made further modifications. Remove the custom ad blocker rule(s) and the page will load as expected.