Not in FusionFall Retro.
The following article is about something that appeared after the Birthday Bash update in FusionFall, and so will not appear in FusionFall Retro.
As such, it solely exists for archiving part of the original game.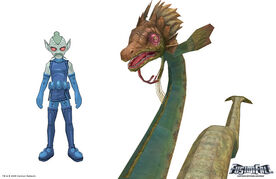 The Kumari Admirals and Serpents
are another form of transport introduced during the Valentine's Day Event of 2010. Like the
SCAMPER
. it doesn`t shows a slow visual view of the path. The serpent is controlled by a
Kumari Admiral
, from the Secret Saturdays. The only Kumari Admiral and Serpents are found in
Forsaken Valley
and
Monkey Foothills
, providing direct service to each other as a route from the Wilds to the
Darklands
, replacing the SCAMPERs found there before.
Areas with Kumari Admiral and Serpent Services
Ad blocker interference detected!
Wikia is a free-to-use site that makes money from advertising. We have a modified experience for viewers using ad blockers

Wikia is not accessible if you've made further modifications. Remove the custom ad blocker rule(s) and the page will load as expected.