The Kumari are a humanoid species from the show, The Secret Saturdays. They are amphibious, able to stay on land or water.
FusionFall
War Against Fuse
Valentine's Day
The Kumari NPC group debuted during the Valentine's Day update.

Transportation
Two Kumari Admirals run the transport with the Great Serpent between Monkey Foothills and Forsaken Valley.
Game Changes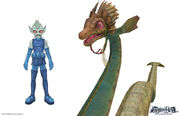 The species first appeared during the Valentine's Day event; they served as a new type of transportation for players. They were put into the game after the event as the bridge between The Wilds and The Darklands, replacing the S.C.A.M.P.E.R. in that area.
Ad blocker interference detected!
Wikia is a free-to-use site that makes money from advertising. We have a modified experience for viewers using ad blockers

Wikia is not accessible if you've made further modifications. Remove the custom ad blocker rule(s) and the page will load as expected.