Genius Grove
Talk

1
1,470pages on
this wiki
This article is about Genius Grove in the past. for the future version see Genius Grove (The Future).
---
Genius Grove is the location of where
Dexter
onced lived.
Mandark's House
is right arcoss the street from his, but due to the Fusion invasion Mandark's home is now an
infected zone
. While Mandark's house tunnel that connects Dexter's lab to Mandark's. Fusion Dexter and Computress, along with an army of Fusion Spawn, are trying to steal technology from Dexter's old laboratory using an under ground tunnel that connects Dexter's and Mandark's houses. The house is now empty seeing Dexter moved to Tech square and bulit a house for his parents, though Dee Dee lagged behind and is now the only member of their family still living in Genius Grove. Numbuh Five and Prof. Utonium have stationed themselves at the house to protect Dexter's old lab. Dexter installed a warp gate from Genius Grov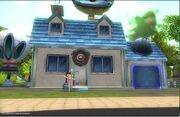 e to DexLabs. Recently, Mega Fusion Echo Echo invades the small town every night, until he was defeated by nearby heroes. Though this was proven not true due to the fact that a couple of Fusion Echo Echos have robbed Dexlabs. This theory is proven extremely not true now that Fuse has some how managed to create a new Mega Fusion Echo Echo. A secret Snail seems to have managed to slim its way into Genius Grove and is hidden on the radio tower.
Game Changes
Edit
On September 14, 2011, Professor Paradox started handing out the AmpFibian Nano Mission over in Peach Creek Commons, with the relevant Fusion Lair-the Fusion Lab-near the pond in the southern part of Genius Grove. Fusion Mega Echo Echo also made his return as well.
Interestingly, one of the Dexbots makes a reference to the Hero being in Dexter's time travel experiment, and though you can no longer partipate in said experiment.
Name
Doom Drone
Boss
Doom Defender
Level
07
Type
Blastons
Description
This Drone is similar to some of Dexter's other inventions that turned against him, but the Doom Drone is the high tech brother of the Tech Drone that is smarter, stronger, and meaner.
Attacks
Corruption
Name
Tech Tunneler
Boss
Tech Tunneler 2.1
Level
07
Type
Adaptium
Description
Dexter used the Tech Tunnelers to help expand his underground lab. Fuse knew these bots meant business, which is why he corrupted them for his army. These once loyal diggers have a new master and a bad attitude.
Attacks
Eruption
Name
Tech Wing
Boss
Gigatech Wing
Level
07
Type
Cosmix
Description
Even the old parts of discarded Dexlabs equipment aren't safe from Fuse's influence. The Tech Wing may look like the work of the boy genius, but Fuse added a few surprises of his own.
Attacks
Stun
Destinations
Edit
Monkey Skyway Agents Destinations
Edit
Fusion Lairs
Edit