Not sure where to start?
The Community Portal is a great place to learn about the wiki. It contains information for newcomers and regular members alike:
Info on getting started and editing the wiki, with video demos.
How to customize your User page.
See what's missing on pages.
How to maintain pages and make sure they have a consistent look.
Reference materials on templates, categories and more.
Blogs and newsletter articles.
Disclaimer
This wiki is filled with spoilers about events, characters, items, and elements in the game. In no way is this wiki intended to be a substitute for actually playing the game, since the experience is always better than reading about it.

Images
As all the content is owned by Cartoon Network, images must be only in .png (lower case) format. For Windows users, press the button "Prt Scr" to save an image of the screen, then paste the image into Microsoft Paint or a similar program. After cropping the image down to the game screen (or relevant item on it), save it in the format mentioned. For Mac users, press Shift+Apple+3 or Shift+Command+3 and the screen will be saved as an image file on your desktop, and can be cropped as necessary. If users wish to add item images, please ensure that the item can be equipped or used, which is denoted by a blue background. Items with a red background cannot be used or equipped. All help is GREATLY appreciated.

Virus Disclaimer
The FusionFall wiki Staff are not responsible for any pop-ups saying you have some viruses. Please scan your computer for any actual viruses that may have infected your computer. If you don't, the pop-up is fake. Then report it to the Wikia Staff, not the FusionFall Staff. The FusionFall Staff cannot help you with FusionFall Wiki problems.

Sponsors/reliable sources
Guide Rewards
edited by Fusion Aquaabyss

| | |
| --- | --- |
| Summary: | It wasn't broken |

Guide Rewards
edited by Xeneon21

| | |
| --- | --- |
| Summary: | Fixed First Set Table |

Activating a bot
created by Zacatero

| | |
| --- | --- |
| | I've got finals soon, but the bot should be up any day now. Sorry I've kept everyone waiting so long.  |
| | |

IMPORTANT OPEN AND READ
created by Fusionbioformer

| | |
| --- | --- |
| | Join our page to support us. We're trying to make it as accurate as can be.  |
| | Damn, nearly four years later and: - Snyder's out of CN, along his with live-action and overload of (mostly) Canadian imports. The netw...  |

Peggy Danger
edited by Mojo331

Venturing to Sector V and Beyond

Is something missing? Is there a mistake? Don't be shy.
Click the edit button and
you can add to any page!

Samurai Jack
edited by MizukageMoonstone

Nano Creation

The Nanos pages need your help!Click the "Edit" button on any page in that category to help out.Show your support for the Nanos pages!

earned the Nano Creation badge
Awarded for making 1 edit on a Nanos article!

Marie Kanker
edited by MizukageMoonstone

Advanced Training (Petting Zoo)

Is something missing? Is there a mistake? Don't be shy.
Click the edit button and
you can add to any page!

Marie Kanker
edited by MizukageMoonstone

Ape-arazzi

Click the edit button, and then the Add a picture button. You can add a photo from your computer, or from another page on the wiki.

earned the Ape-arazzi badge
Awarded for adding 1 picture to an article!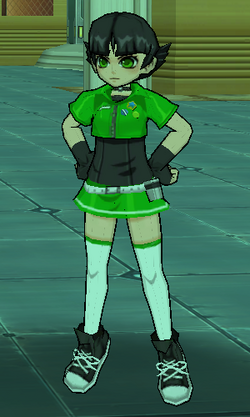 • Buttercup is one of the three Powerpuff Girls, whose sisters are Blossom and Bubbles, loves to fight, and is considered a tomboy.
• Buttercup had a battle with Mojo Jojo over the ocean and was said to have never been seen again.
• Buttercup had amnesia but eventually regained her memory after her battle with Mojo. During this time, Ace takes her into his band under the identity of Belladonna.
What is your opinion on the new season of Samurai Jack?
FusionFall Retro is getting closer and closer to its open beta! Are you excited?
Ad blocker interference detected!
Wikia is a free-to-use site that makes money from advertising. We have a modified experience for viewers using ad blockers

Wikia is not accessible if you've made further modifications. Remove the custom ad blocker rule(s) and the page will load as expected.