Featured Article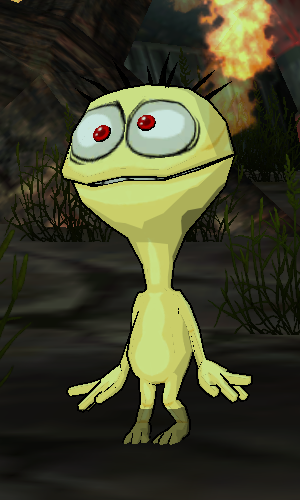 Cheese is Louise's imaginary friend, who spends most of his time at Foster's. Cheese was first thought to have been a younger brother for Bloo that was accidentally created by Mac when Cheese slept in his bed and Mac woke up finding him there. Even though Cheese kept coming to Foster's, everyone else kept telling Cheese that he didn't live there and to "go home." Cheese didn't become an actual resident of Foster's until the series finale, when Mac's family was moving into Louise's apartment, and Louise couldn't keep Cheese where she was moving. Cheese's sheer stupidity and childish antics annoy nearly everyone around him. Few he meets are able to put up with him. He says many things that are quite random, and only Mac and Louise can understand him. Read more >
Featured Nano
"The Numbuh Four Nano is a handy nano to have around at those later levels. Despite not being available until you reach the Darklands, the Numbuh Four Nano is extremely useful once there. His powers are Drain, Heal, and Revive, and he is a cosmix. If you need a strong nano willing to help you out, call on Numbuh Four."
Have you signed the petition yet?
Forums
Helping Out
Not sure where to start?
The Community Portal is a great place to learn about the wiki. It contains information for newcomers and regular members alike:
Info on getting started and editing the wiki, with video demos.
How to customize your User page.
See what's missing on pages.
How to maintain pages and make sure they have a consistent look.
Reference materials on templates, categories and more.
Blogs and newsletter articles.
Disclaimer
This wiki is filled with spoilers about events, characters, items, and elements in the game. In no way is this wiki intended to be a substitute for actually playing the game, since the experience is always better than reading about it.

Images
As all the content is owned by Cartoon Network, images must be only in .png (lower case) format. For Windows users, press the button "Prt Scr" to save an image of the screen, then paste the image into Microsoft Paint or a similar program. After cropping the image down to the game screen (or relevant item on it), save it in the format mentioned. For Mac users, press Shift+Apple+3 or Shift+Command+3 and the screen will be saved as an image file on your desktop, and can be cropped as necessary. If users wish to add item images, please ensure that the item can be equipped or used, which is denoted by a blue background. Items with a red background cannot be used or equipped. All help is GREATLY appreciated.

Forum

Virus Disclaimer
The FusionFall wiki Staff are not responsible for any pop-ups saying you have some viruses. Please scan your computer for any actual viruses that may have infected your computer. If you don't, the pop-up is fake. Then report it to the Wikia Staff, not the Fusion Fall Staff. The FusionFall Staff cannot help you with FusionFall Wiki problems.

Sponsors/reliable sources

Welcome to the FusionFall Wiki,
The wiki about
FusionFall
that
anyone can edit
!
We are currently editing 1,477 articles and 7,170 images since October 2008.
If you wish to create or edit
Fan-made material or episodes, please visit

SHARE YOUR FANFIC IDEAS!!!
If you wish ask in-game questions
about FusionFall, please visit

Currently, there are also communities in the following languages:
ES
Affiliates

FusionFall news
FusionFall news
I realized that our wiki is really restricted in certain areas. Most notable in affiliations. I suggest that we create a Youtube account for the wiki. The account will showcase videos submitted by the community. Meaning? Meaning, you are welcome to send us videos that we will upload to the account.…

Read more >
Issue Discussion
This a little out of control now. I am seeing the most horrid spam and noob uprising in my entire internet life. Polices need to be made, like now. I suggest you start with the editing of the user welcoming message: MediaWiki:Welcome-message-user.

Then, I suggest polices start being made with the ad…

Read more >

I have been on this wiki long enough to see many things. One thing I hate the most is wiki conz. I don't trust them (sorry if you are a helpful wiki con.) I just don't trust them. Recently, I have been seeing multiple vandals messing up the pages and a couple of n00bs here and there not following t…

Read more >

Okay, I not the only one who noticed that the templates are off the wall! And everyone ignored the warning on the front page about, DO NOT EDIT THE PAGES.

Really all the people who edited pages when they were not allowed to should be put in Time-Out. Any ways before the Template Meltdown, I was build…

Read more >