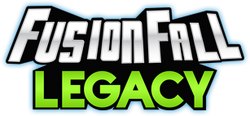 FusionFall Legacy (alternatively known as FFL) is a full unofficial fangame remake of FusionFall, crafted over the span of nearly three years by a team of devoted fans. The game is said to be a re-imagined—albeit familiar—version of the original, with enhanced gameplay features, graphics, and structure, courtesy of being built using a newer version of the Unity game engine. The game is still in production.
Development
Conception
Main article: Project R
Trivia
FusionFall Legacy is under the FusionFall Universe banner, which also contains FusionFall Retro.
References
External links
Ad blocker interference detected!
Wikia is a free-to-use site that makes money from advertising. We have a modified experience for viewers using ad blockers

Wikia is not accessible if you've made further modifications. Remove the custom ad blocker rule(s) and the page will load as expected.