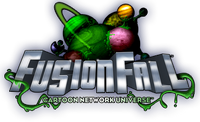 Cartoon Network Universe: FusionFall was a MMORPG (Massive Multiplayer Online Role-Playing Game) developed by Cartoon Network and Grigon Entertainment in which players could enter the Cartoon Network Universe as originals character in the fight against Fuse and his army of Fusions. The game was announced in mid-2007 and set for release in Summer of 2008, but was delayed until January 14, 2009. The game featured elements and characters from many Cartoon Network original series, redesigned in an anime style by Midori Foo. On August 29th, 2013, FusionFall closed down. The final week allowed all players to be at level 36, and have infinite taros.
Gameplay
Move left: A key
Move right: D key
Look/move in looked direction: ← arrow and → arrow/move mouse
Move backward: S key/↓ key
Move forward: W key/↑ key
Attack/talk to NPC: Click/z key
Nanos: 1,2,3 number keys
Inventory: I key
Jump: Space Bar
Talk/Action/email: Enter and click
Synopsis
Planet Fusion, ruled by the evil Fuse, has traveled throughout the galaxy for millennia, devastating and absorbing countless planets and civilizations, and its next target will be the planet Earth, specifically the Cartoon Network universe. Now the player must join forces with the heroes and villains of the Cartoon Network universe to save the planet and defeat Fuse.
Development
Beta testing
Subscription
End of service
"
For years, you've worked with the stars of the Cartoon Network Universe to stop the tyranny of Lord Fuse and his minions. Thanks to you, this corner of the world is safe again!

On Thursday, August 29, FusionFall will close for the last time, and we're going out in style! Join us for one last FusionFall Free-for-All, starting Friday, August 23. Your wildest dreams will come true, as you'll be granted nearly unlimited funds and elevated to level 36!

The Cartoon Network Games team would like to thank you for the years of gaming fun we've had together. Although this battle is over, the war continues in FusionFall Heroes. Please join us there, and stick around for more awesome Cartoon Network Games in the future![1]

"
On August 23rd, 2013, Cartoon Network announced that the game's availability would end on the 29th of August, 2013. During the final week, all players were given infinite funds and maxed-out levels.
Music
Reception
References
External links
Ad blocker interference detected!
Wikia is a free-to-use site that makes money from advertising. We have a modified experience for viewers using ad blockers

Wikia is not accessible if you've made further modifications. Remove the custom ad blocker rule(s) and the page will load as expected.