Endsville is the suburb in which Billy and Mandy, the stars of The Grim Adventures of Billy & Mandy, live with Grim, although in FusionFall, Mandy has departed for Devil's Canyon, and Grim's place as the resident supernatural figure has been taken by HIM. North of Endsville is the Nuclear Plant infected zone. Despite what Professor Paradox says in "Time Traveler's Task," Endsville is not too dangerous, except for players there for the first time. Endsville is also the only way to access Downtown by foot.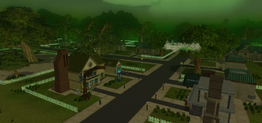 Enemies
Name
Jerk-O-Lantern
Boss
Pushy Jerk-O-Lantern
Level
10
Type
Blastons
Description
Maybe it's because they look so scary that these Halloween horrors think they can be such jerks. You should teach them a lesson, but don't bite off more than you can chew!
Attacks
Eruption

Battery Drain
Area: Endsville
Name
Baron Bloodsucker
Boss
Baron Brampire
Level
10
Type
Blastons
Description
Ve Baron is ve king of ve vight sky and vall vings veepy; if you veel a chill vun up your spine, vou can vet a Baron Bloodsucker is close vy. Blah!
Attacks
Corruption Attack

Stun
Area: Endsville
Name
Spooky Streetlight
Boss
Super Spooky Streetlight
Level
10
Type
Adaptium
Description
Being out at night can be scary, particularly with Spooky Streetlights around. If you run into one of these, you're better off in the dark!
Attacks
Eruption

Stun
Area: Endsville
Name
Mummy Monster
Boss
Big Ol' Mummy Monster
Level
10
Type
Cosmix
Description
Mummies are bad enough, but Fuse's Mummy Monsters are even worse! They're trained in martial arts, and they even work out!
Attacks
Corruption Attack

Battery Drain
Area: Endsville
Destinations
S.C.A.M.P.E.R. Destinations
Monkey Skyway Agent
Ad blocker interference detected!
Wikia is a free-to-use site that makes money from advertising. We have a modified experience for viewers using ad blockers

Wikia is not accessible if you've made further modifications. Remove the custom ad blocker rule(s) and the page will load as expected.