Ad blocker interference detected!
Wikia is a free-to-use site that makes money from advertising. We have a modified experience for viewers using ad blockers

Wikia is not accessible if you've made further modifications. Remove the custom ad blocker rule(s) and the page will load as expected.
This area is similar to Forsaken Valley in terrain, but contains an infected zone. This area contains no shopkeepers, but there are a few SACT agent NCPs (such as Agent Cahill and Agent Boyd). The bridges here are in worse condition than the ones in Forsaken Valley, as they all have giant gaps in them and cannot be crossed without the assistance of a Jump or Rocket nano power.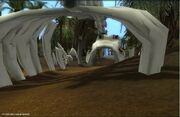 Enemies
Name
Fossil Brawler
Boss
Bare-boned Brawler
Level
28
Type
Cosmix
Description
Fossil Brawlers are walking nests, complete with a dinosaur egg filled with Fusion Matter in each. They will protect this egg at all costs, so don't get too close -- unless you're ready for a fight.
Attacks
Corruption Attack

Eruption

Stun

Area: Dinosaur Pass
Name
Horrordactyl
Boss
Colossal Horrordactyl
Level
28
Type
Blastons
Description
The Horrordactyls stay away from their Terrordactyl cousins, loyally serving Lord Fuse and patrolling the trees of Dinosaur Pass to make sure no one gets past them.
Attacks
Corruption Attack

Eruption

Stun

Area: Dinosaur Pass
Name
Triceraclaw
Boss
Triceraclaw Poppa
Level
28
Type
Cosmix
Description
The Triceraclaws are mobile communication stations. In the vast expanses of the Darklands, they are quite useful for sending radio transmissions. Shut 'em down and help keep Fuse in the dark.
Attacks
Corruption Attack

Eruption

Battery drain

Area: Dinosaur Pass
Name
Frilled Fiend
Boss
Frilled Fiend Queen
Level
28
Type
Adaptium
Description
These fiends are strong and swift, but their metal frills also provide great radio reception. Fuse stays in constant contact with them to coordinate their attacks!
Attacks
Corruption Attack

Eruption

Battery Drain
Area: Dinosaur Pass