Devil's Canyon
Area Level
22
Devil's Canyon is a canyon south of Devil's Bluff. It is the FusionFall equivalent of Hell's Canyon, the Grand Canyon, Devil's Tower, and the Badlands of South Dakota.
History
Enemies
Name
Canyon Creeper
Boss
Broad Canyon Creeper
Level
22
Type
Cosmix
Description
This twisted monster looks a lot like the Canyon Stalker, but don't let appearances fool you. The Creeper is even more inhuman and vicious.
Attacks
Corruption Attack

Eruption

Battery Drain
Area: Devil's Canyon
Name
Pneumatic Bear
Boss
Pneumatic Bear Nightmare
Level
22
Type
Blastons
Description
The jackhammer on this bear's arm is run by pneumatic power, allowing him to get the job done while still saving energy to take you on. Once he gets his motor running, you better run.
Attacks
Corruption Attack

Eruption Stun
Area: Devil's Canyon
Name
Canyon Colossus
Boss
Colossal Colossus
Level
22
Type
Adaptium
Description
Devil's Canyon holds mysteries that no one has ever seen and lived to tell about. Some believe the Canyon Colossus is an animated statue from a long-lost civilization hidden away among the crevices.
Attacks
Corruption Attack

Eruption

Stun
Area: Devil's Canyon
Elements
Devil's Canyon is a desert environment. There are relatively few signs of life and many dead plants.
Scenery
Camping Grounds
Tents and campfire suggest that there were campers in this area. If you can listen closely, you can hear the crackles from the still burning fire.
Native Village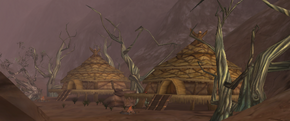 Huts can be found all around Devil's Canyon and Devil's Bluff. This evidence points to what once was a native village.
Old Stairs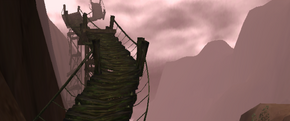 Worn down stairs connect the lower part of Devil's Canyon to the higher levels.
Ad blocker interference detected!
Wikia is a free-to-use site that makes money from advertising. We have a modified experience for viewers using ad blockers

Wikia is not accessible if you've made further modifications. Remove the custom ad blocker rule(s) and the page will load as expected.