Ad blocker interference detected!
Wikia is a free-to-use site that makes money from advertising. We have a modified experience for viewers using ad blockers

Wikia is not accessible if you've made further modifications. Remove the custom ad blocker rule(s) and the page will load as expected.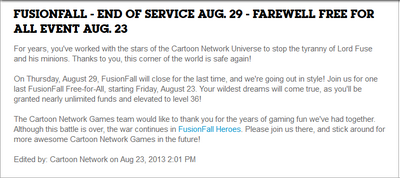 FusionFall was closed
by Cartoon Network on August 29, 2013. From the announcement on August 23, 2013, until the ending date, players were able to play at level 36 with unlimited funds. The game most likely closed due to a number of factors, such as a decrease in players over the years, a lose in profits due to the game being F2P for so long, a lack of direction the game was taking some time after Grigon quit the FusionFall team and competition from console and handheld games such as the
Skylanders
series and the now equally-defunct
Disney Infinity
(the game made it's debut 11 days before FusionFall's shutdown)
Trivia
Disney's MMORPGs Toontown, Pirates Online, and Pixie Hollow were also set to close; their closing was announced three days prior to Cartoon Network's shut-down. Unlike FusionFall, however, they are planned to shut down on Sept. 19th instead of Aug. 29nd. This means all of the original children's MMORPGs are being shut down.
The official page for FusionFall Retro can be found here.